Government rebates are available right now. Save 25% of the cost of your solar installation.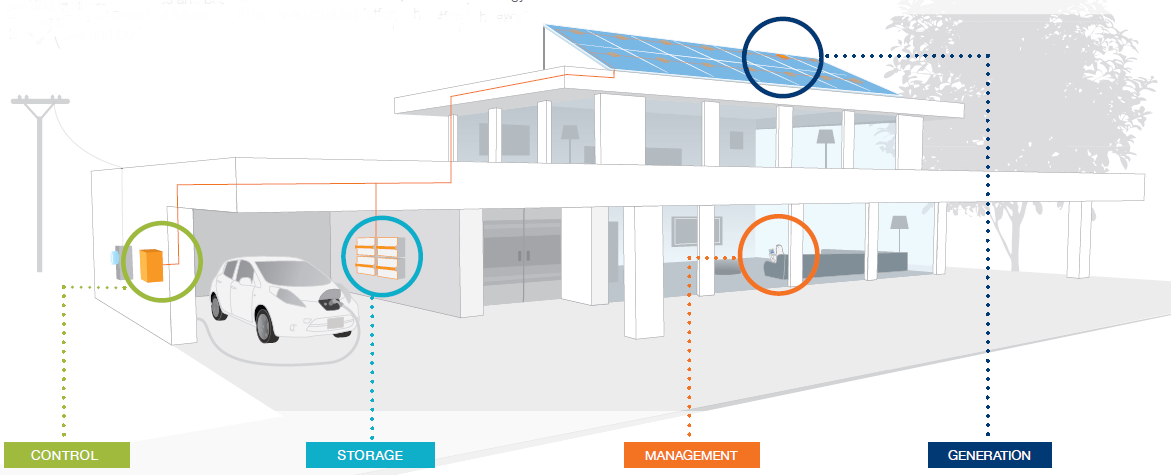 Production
Generate solar power using your available shade free roof area.
Clever Control
Your smart inverter converts DC to AC power ready to use in your home.
Storage
Excess power is stored for use in the evening & to run essential services in black out.
Management
Sophisticated alerts, real time data and system controls at your finger tips.
What size system suits your needs?
What do you need today and what does that look like in 5 - 10 yrs time?
If this includes a future battery then adding to the solar production now is important.
6+KW SYSTEM
Solar Package
16-18 solar panels
5 - 6kW Inverter
Estimated Annual Savings
$1850 (approx 5 yr ROI)
Average Daily Energy
24kWh
Average System Cost
$9500 - $11,000
8+KW SYSTEM
Solar Package
20-22 solar panels
8kW Inverter
Estimated Annual Savings
$2430 (approx 5 yr ROI)
Average Daily Energy
32kWh
Average System Cost
$12,500 - $14,500
10+KW SYSTEM
Solar Package
26-28 solar panels
8 -10kW Inverter
Estimated Annual Savings
$3040 (approx 5 yr ROI)
Average Daily Energy
40kWh 
Average System Cost
$14,500 - $16,800
Clean Energy Council recommended performance estimates: Average daily production | facing north | 50% consumption offsetting 29 cents / kwh & 50% export at 12.5 cents / kwh
Small Technology Credits (STCs)
Solar power systems are eligible right now for Federal STC's which are financial incentives. These incentives are based on the solar production capacity and the date of installation. They are applied at the point of sale so there is no extra out of pocket expense to you. At the current value of $31 per STC, the incentives for each system size are shown below.
10kW System (138 STCs)
Incentives $4830
15kW System (207 STCs)
 Incentives $7245
These are some of our proud solar installations
Power your home with solar from a genuine Central Coast company
Frequently Asked Questions
Will a solar energy system power my whole house?
Typically no but we can tailor a system to suit your needs. Depending on whether you want match your energy usage or cover the costs of your energy bill we start by reviewing your current energy bill and available roof area and tailor a system to achieve your requirements.
Will solar panels work if my roof is shaded?
No. Solar panels require full sunlight. To work out the maximum solar benefit of your site, we use a device called Solar Path Finder. Every location is unique, and our staff use this device to determine the seasons, months and times of the year that your roof will be in shade.
How long will my system last?
All our panels have a 25 year product warranty.  Superior Solar select the highest quality inverters to compliment the panels and mounting ensuring the longest possible reliability and longevity.
How is my system mounted to the roof?
The mounting system is an integral component to your solar power system built to withstand our weather events and hostile coastal environment.
Schletter solar mounting systems are German engineered and use a range of custom brackets tailored to your roof. The correct roof fitting is essential to ensure water flow, avoid debris build up and maintain the roof integrity. Metal fittings in L and W feet configurations and tile brackets that sit under the tile and attach to the roof truss are the most typical. The range of roof tiles from thicker terracotta to the latest slimline tiles all impact on the design requirements of the mounting system.
The components are extruded aluminium and stainless steel with a 10 yr warranty.
Colorbond, Klip Lok and tile roof fixtures plus a range of custom tilt frames from a subtle 7  up to 30 degrees.
Will my solar panels be affected by hail?
The panels are made of low-iron, toughened glass. In very extreme cases, the glass may be damaged so we recommend you notify your insurance company after installing your system.
Why do Superior Solar use predominantly European inverters?
Superior Solar ruthlessly select competitively priced quality components back by established manufacturers. Europe has a well established solar industry,  products have withstood the test of time and they are global leaders in terms of quality and longevity.
Are there any financial incentives available?
All new solar power systems are eligible for a Federal Government financial incentive. This is applied up front at the point of sale so there is no out of pocket expenses. The incentive value is determined by the system size, the year it is installed and the area you live in.
Will solar power help my BASIX when building a new home?
Yes. The size of the system will determine the impact on your BASIX assessment.
Will my solar energy system work in a black-out?
During a black out your solar power system will shut down as an Ausgrid safety measure. Some batteries, such as the Tesla Powerwall, allow your system to continue working as it can operate independent of the grid.
Find out how much solar can save your family
Quality solar energy systems from a team you can trust
Get Started
Solar Products