Complaints Handling Procedure and Policy
(SUPPLY AND INSTALLATION OF SOLAR PANELS AND INVERTER)
This procedure applies to the supply and installation of the Solar Panel Modules, the Inverters and the Mounting system supplied by Magnify Pty Ltd Trust for DJW Trust ABN 24 695 857 476 t/as Superior Solar.
1. Purpose
This policy is intended to ensure that we handle complaints fairly, efficiently and effectively. Our complaint management system is intended to:
1.1 Enable us to respond to issues raised by our clients making complaints in a timely and cost-effective way.
1.2 Boost customers confidence in our administrative process and product.
1.3 Provide information that can be used by us to deliver quality improvements in our solar product, installation services, staff and complaint handling.
1.4 This policy provides guidance to our staff and people who wish to make a complaint on the key principles and concepts of our complaint management system.
2. Scope
This policy applies to all staff receiving or managing complaints from our clients made to or about us, regarding our solar product and service.
3. Respond to complaints
3.1. Early resolution: Where possible, complaints will be resolved at first contact with our receptionist or technician.
3.2. Responsiveness: We will assess and prioritise complaints in accordance with the urgency of the issues raised. If a matter concerns an immediate risk to safety or security the response will be immediate and will be escalated appropriately; or
feedback will be provided to the consumer within 21 days of receipt. Where additional time is required, consumers must be informed of the need for more time to complete investigation; and the investigation must be completed within 25 days of receipt of the complaint.
3.3 We are committed to management clients' expectations, and will inform them as soon as possible, of following:
The complaints process
The expected time frames for our actions
The progress of the complaint and reasons for any delay
Their likely involvement in the process, and
The possible or likely outcome of their complaint
We will advise people as soon as possible when we are unable to meet our time frames (21 days of receipt) for responding to their complaint and the reason for our delay.
4. Complaint management system and workflow
4.1 Receipt of complaints
Unless the complaint has been resolved at early resolution, we will record the complaint and its supporting information. .
The record of the complaint will be documented in our online CRM software and include:
The contact information of the person making a complaint
Issues raised by person making a complaint and the outcomes clients want.
4.2 Complaint handling procedure and workflow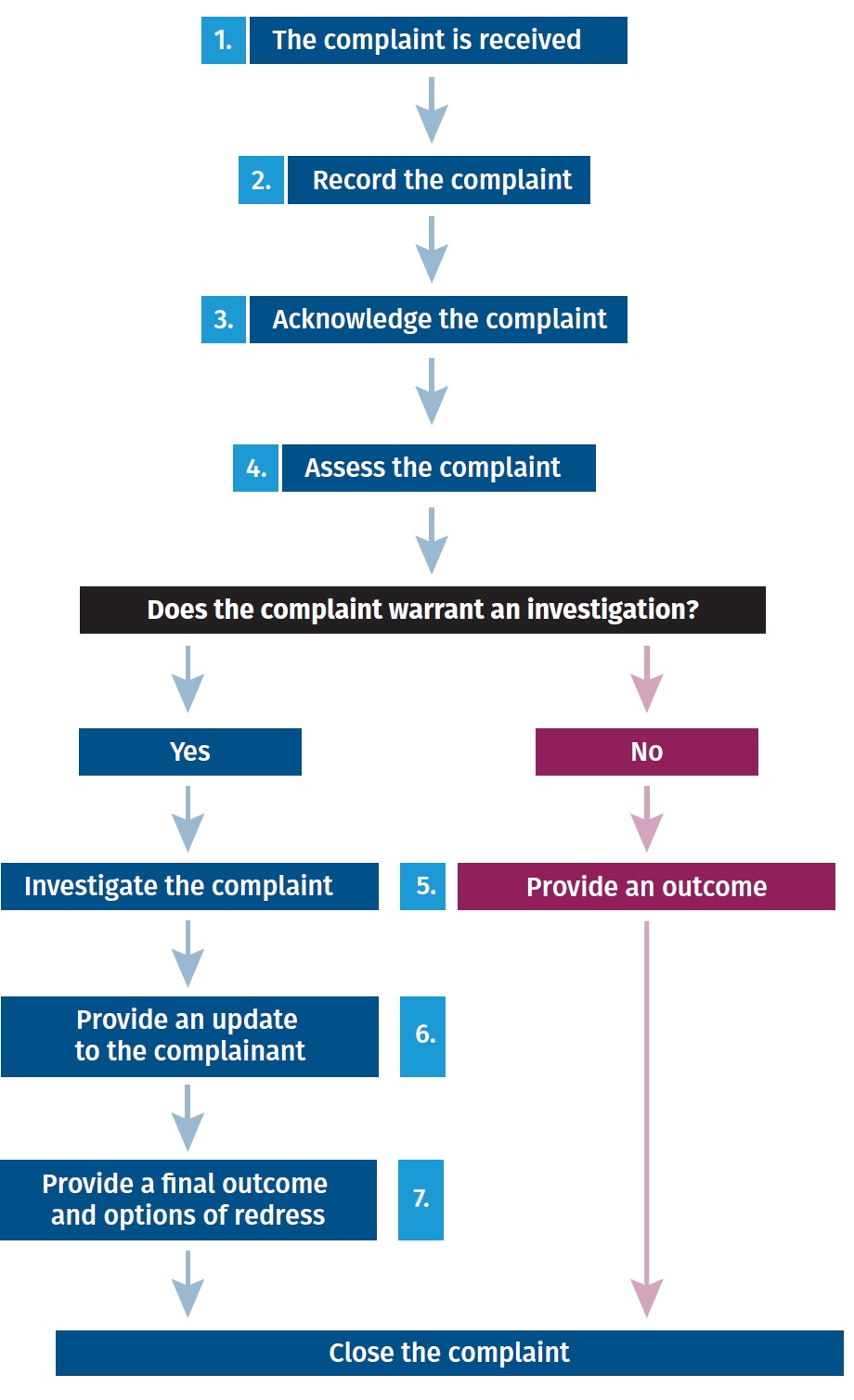 5. Alternative avenues for dealing with complaints
We will inform clients who make complaints to or about us about internal or external review options available to them including any relevant Ombudsman or oversight bodies. Information will be available at following link of our website.
The relevant bodies information and contact detail (also available on our official website)
ACCC (Australian Competition & Consumer Commission): Make an Enquiry  | Phone: 1300 302 502, Monday to Friday from 8.30am to 5.30pm AEST/AEDT
Fair Trading | Phone: 13 32 20 (8.30am to 5pm, Mon - Fri)
6. Monitoring of the complaint management system
We will continually monitor our complaint management system to:
Ensure its effectiveness in responding to and resolving complaints, and
Identify and correct deficiencies in the operation of the system.
Monitoring may include the use of audits, complaint satisfaction surveys and online listening tools and alerts
7. Continuous improvement
We are committed to improving the effectiveness and efficiency of our complaint management system. To this end, we will:
Support the making and appropriate resolution of complaints
Implement best practices in complaint handling
Recognize and reward exemplary complaint handling by staff
Regularly review the complaints management system and complaint data.