Off Grid Solar Power Products
Leading the solar industry with quality high performance products.
Solar Modules
A range of high quality, high production solar modules to suit all needs
Solar Inverters & Management System
Become more independent in the use of energy with intelligent technology from SMA.
The inverter converts the DC to AC current and the Battery Management System (BMS) autonomously balances the power demand and production to keep house supplied with power and batteries charged.
With a SMA Off Grid solar system you will be completely independent from external energy supplies, can combine different energy sources eg solar, wind and a generator as a back up and you can expand or change your system on a modular basis any time.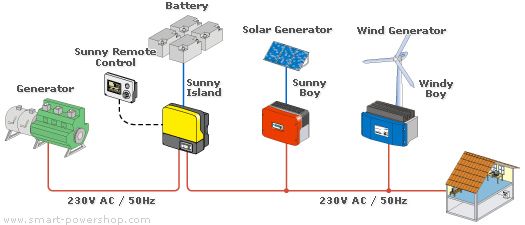 Solar Panel Mounting System
The mounting system is an integral component to your solar power system built to withstand our hostile coastal environment.
Superior Solar uses Schletter solar mounting systems. This custom German engineered and manufactured mounting system is tailored to suit your roof either tiled or metal or independently mounted solar panels. If a tiled roof then the mounting sits in between the tiles and attaches to the roof truss so does not compromise your tile/roof integrity. This system is extruded aluminium and stainless steel with a 10 yr warranty.

Roof Mounting System

Ground or Standalone Mounting System
Solar Power System Installation
The full installation is completed in house with our qualified and experienced tradesman which gives us complete accountability on the installation. We typically take a full day to complete this with care and all wifi systems and apps are set up and operational on completion on the platforms of your choice.
Qualified tradesmen
Fully commissioned onsite
Personalised manual
Customer Care program