Extend Your Swimming Season At No Cost
Have you ever been in a solar heated pool? If you have then you know how hard it is to go back to a non-solar heated pool. The sun is shining but the pool is freezing and forget about swimming in your pool outside of the summer months.
Solar hot water system is the perfect solution and one that won't break the bank or harm the environment, ensuring that your pool is always exactly the temperature you want it to be. And best of all, once your solar pool heater is up and running, the cost of running the system is virtually nonexistent.
How A Solar Pool Heater Works
Water is pumped from your pool either through a series of solar tubes or solar panels mounted on your roof. The water is heated up by the stored heat in the panels/tubes from the sun and is then pumped back into your pool at the temperature you set it to be. The temperature can be set either manually or automatically with most systems allowing both.   
The solar heating system even works on cloudy days, however the effect may not be as strong and you may not get the heat you desire. However the pool will still be warmer than it would've been without the solar heating. This point is especially important when it comes to choosing your solar hot water system as you and your installer should ensure that the panels/tubes are positioned in order to utilise the maximum solar power obtainable on your property.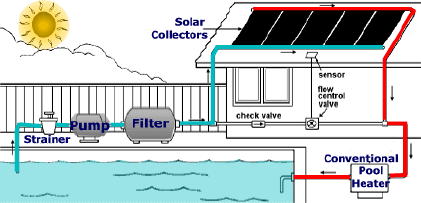 Extending Your Swimming Season
| | | |
| --- | --- | --- |
| Location | Without Solar Heating | With Solar Heating |
| Melbourne | 2 months | 4-5 months |
| Adelaide | 2 months | 4-5 months |
| Hobart | 2 months | 4-5 months |
| Sydney | 3 months | 5-6 months |
| Perth | 3 months | 5-6 months |
| Brisbane | 4 months | 6-8 months |
| Darwin | 9 months | 11 months |
As you can see in the chart above, in most cases, the length of your swimming season will almost double with a solar heating system. There are many factors (detailed below) which can affect these numbers and it is possible that your swimming season could be extended even longer with the right setup.
Factors Influencing how Warm the Pool will be
The most important factor which will affect the temperature of the pool is how big the solar collector area is and how much sun it and the pool receives. As a general rule the solar collector area should be at equal to at least 80% if not 100% of the surface area of your pool. Most solar hot water systems are capable of heating a pool by around 5-8ᵒ C and often by as much as 10ᵒ C.
Other factors include the construction of the roof both in terms of materials and colour. Metal and fibro roofs are good for solar whilst tile roofs are less efficient. Darker coloured roofs conduct more heat than lighter coloured roofs. Shading is a big issue and one of the first factors that installers will look at when assessing your system. Shading over the collectors and the pool will affect the maximum temperature increases you may receive from your solar pool heater. Pool covers work fantastically in conjunction with solar pool heaters and the combination of the two has been shown to offer the best temperature increases in pools.
Solar Pool Heater Cost
The typical cost of buying and installing a solar pool heater is between $3000 and $5000. This will increase or decrease with the size of the pool being heated. The price of a gas heater is similar but the installation cost is usually much lower. Electric pumps are usually a fair bit more expensive but again the installation cost is lower. However the running costs of both these two alternative heating systems is higher, resulting in any difference in initial outlay being surpassed after usually within a couple of years.
Approximate Solar Pool Heater Cost for an Average 4m x 8m Pool
System
Price
Installation Cost
Annual Running Costs
Median 10 Year Cost
Solar Heating

$2,500

$1,300

$100-$200

$5,300

Electric Heat Pump

$5,800

$400

$250-$750

$11,450

Gas Heater

$2,700

$200

$500-$1,500 (natural gas)

$700-$2,100 (LPG)

$12,900 (natural gas)

$16,900 (LPG)
Tips for Using your Solar Pool Heater and what to Look for in an Installation Company
The number one thing is to be smart when you use your system. Don't run it when you don't need it, this includes going on holidays or in the chillier winter months. However during the swimming season, make sure you run the system for an hour a day as this cleans out the pipes and keeps your pool and the system sanitised. If you have an automatic solar controller, then your system will do this for you.
When looking for a company, look for years of experience and in particular, experience with the system you want to use. Of course, ensure that they have the correct licenses to install. These are usually state specific so make sure they match up with the state you live in. The best companies will always offer on-going service and extended warranties. 10-plus year warranties are common but make sure to read the fine print just in case.
Superior Solar have been installing solar power systems for almost 20 years. We ruthlessly choose the absolute best suppliers and best products on the market. Our products come with a  25 year warranty from our suppliers, who are well established and trusted. Not surprisingly we have been rated
Solar Panels Installation
Rated 4.7 / 5 based on 35 reviews. | Google

Solar Hot Water Projects NSW | Solar Hot Water Product Range | Solar Panels For Home