Electricty Prices to go up 19%
April 26, 2012
Earlier this month (April 2012) IPART (Independent Pricing and Regulatory Tribunal) released their draft decision for NSW electricity prices that will come into effect from the 1st July this year.

Based on the draft decision, average regulated retail electricity prices will increase by around 16% across NSW from 1 July 2012, or between 10.3% and 19.2% across different electricity supply areas.
These changes follow the past and current average increases of 10% and 17% across NSW in 2010/11 and 2011/12 respectively.
The average price increases will vary for customers of the three regulated electricity retailers as follows:
19.2% for Energy Australia customers
10.3% for Integral Energy customers
17.6% for Country Energy customers
Please see the full report or fact sheet for the weekly impact on residential and business billing.
What is driving these pricing increases?
This year, the increases proposed in our draft decision are primarily driven by:
the continuing rise in forecast network costs, which contributes to around half of the average 16% price increase, and
the introduction of the Federal Government's carbon pricing mechanism, which contributes to the other half of the average price increase
Importantly green schemes such as support for solar power or solar hot water contribute 0% towards the price increase unlike what has been recently implied by politicians and the media alike.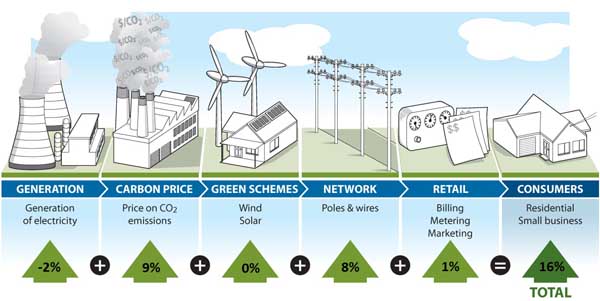 Drivers of increases in average regulated retail electricity prices on 1 July 2012, across NSW (including inflation, %)
Note: 'Green Schemes' include all of the Commonwealth and NSW Government schemes designed to reduce greenhouse emissions except for the Commonwealth Government's carbon pricing mechanism.
More specific detail on the price drivers for the individual energy companies ( Energy Australia, Integral Energy and Country Energy) can be found in the full IPART fact sheet or report.
Recommendations to mitigate future electricity price increases.
In recent years, electricity retailers' costs have increased significantly and are expected to continue to rise in coming years. These costs must be passed on to consumers in the form of increased electricity prices, if the retailers are to remain financially viable.
IPART recognises that the percentage rise in average electricity bills is likely to outstrip the percentage rise in average household income and therefore many households will spend an increasing proportion of their income on electricity bills, particularly those in low income, high consumption households.
Ultimately, our recommendations are designed to ensure that electricity prices increase by no more than necessary.
IPART strongly supports measures that will help to limit electricity prices increases while maintaining the viability of the electricity retail industry. In this light has made a number of recommendations to the NSW and Commonwealth governments regarding the ongoing management.
Consumer Fact Sheet – Changes in electricity prices from 1 July 2012 – April 2012
IPART Draft Report Electricty price Increases from July 2012
*Privacy Guaranteed, Unsubscribe Anytime.