Q Cells Thin Film Solar Installation
November 22, 2011
Building an energy efficient home is becoming more popular and more important for those conscious of their carbon footprint and the ever escalating cost of electricity.
The demand for managing energy consumption is being driven mostly by the escalating electricity costs and the a sense of doing the right thing for the planet. This new home in Springfield is not quite  completely off the grid but certainly comes close. This home owners goal was for minimal emissions and as energy efficient a home as possible.
Some of the  unique energy savings features are as follows:
3+kw solar system installation using Q Cells CIGs thin film solar panels
Solar hot water system with gas booster
Ducted fireplace for internal heating
Reverse brick veneer (cladding on the outside and brick inside)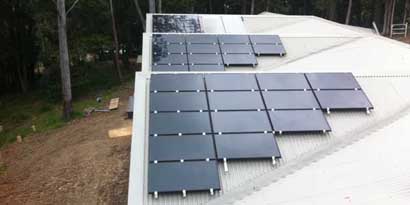 For the first time homes in more dappled light environments can enjoy the high efficiencies from their solar panels previously only afforded to those in full sun positions.
The Q- Cell CIGs Thin Film panel comfortably works in dappled light as the partly shaded panel keeps working rather than shutting down.
Q Cells offer the world's best efficiencies for thin film modules of up to 13.4% (compared to 6% for other thin film products)
Sleek black aesthetic design
Good low light performance
Reliable made in Germany quality
10 year product and 25 year output warranty
Learn more about the Q Cells CIG thin film solar panels
November 15, 2011
Everybody wants to protect themselves from the escalating electricity costs and businesses are no exception.
The benefits from a solar power system can be substantial if your electricity use is highest as the power is being generated through the day.
Solar power is generated when the sun is shining through the day. For the majority of commercial premises this is exactly when the demand for electricity is highest.
For business this can be a significant step to future proof your electricity expenditure and a positive commitment towards a clean energy future.
Avoca Valley B & B wanted a system to match their electricity needs whilst demonstrating a return on investment over a reasonable period of time.

By calculating their energy usage in peak, shoulder and off peak periods at current electricity rates we were able to design a system that matched their energy demand, saving them approximately $1200 per year with a complete return on investment in under 10 years.
As the cost of electricity increases the ROI is attained in a shorter period of time.
Solar Production compared with Power usage

Part of the analysis for Avoca Valley B & B demonstrating how their demand for electricity can be matched by a tailored solar power system

Energy periods

Power Usage %

Average Solar Power Production

Off Peak (10 pm – 7 am)

31.52%

0.92%

Shoulder (all other times)

53.30%

83.07%

Peak (2 pm – 8 pm M-F)

15.18%

16.01%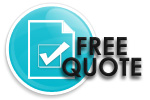 The solar installation was completed in a single day by a team of accredited solar designers and electricians enabling them to maximise their savings immediately.
To discuss a solar solution for your business please talk to our team today.
Avoca Valley B & B
Avoca Valley Bed and Breakfast is situated in the Avoca Beach hinterland on the Central Coast of NSW.   This romantic coastal accommodation has been purpose built as a bed and breakfast and designed to capture the natural light, views and beauty of the central coast environment. Centrally located just 4kms to Avoca Beach, a short drive to the bustling cafes and restaurants at Terrigal Beach, and just 10 minutes from Copacabana, MacMasters Beach and Pretty Beach, Avoca Valley Bed and Breakfast is the perfect spot to base yourselves for your Central Coast getaway.
For more information please review Avoca Valley Boutique B & B
November 14, 2011
This November (2011) Q-Cells have secured the world's largest CIGS thin-film solar plant (20.8MW) and also Europe's largest crystalline solar plant (91MW – 383,000 modules! plus a transformer station to be installed in a record time of 8 weeks).

Q Cells Solar Park Ammerland
Q‐Cells delivers 200,000 CIGS thin‐film Q.SMART modules for Solarpark Ammerland
With a capacity of 20.8 MWp, Ammerland is the world's largest solar power plant using CIGS thin‐film technology and was constructed in the record time of just eight‐and‐a‐half weeks.
The plant was installed on an area of 57ha in Wiefelstede, in the Ammerland district, and has a total capacity of over 20.8 MWp. Solarpark Ammerland will cover the electricity needs of more than 6000 households and save about 11,800 tons of CO2 emissions annually by producing climate‐friendly solar energy.
Review the full press release Q Cells Solar Park Ammerland
Q-Cells Builds Superlative Photovoltaic Power Plant
Brandenburg-Briest solar park is Europe's largest photovoltaic generating plant at 91 megawatts (MW)
Completion planned in record time of eight weeks by 2011 year end
Q-Cells SE, one of the leading photovoltaic companies in the world, is building Europe's largest solar park and continuing its 2011 success story in the large-scale
photovoltaic applications business. The solar park being built in Brandenburg-Briest will have a capacity of 91 MW. A total of around 22,500 households will be supplied with renewable energy from the solar park, avoiding CO2 emissions of approximately 50,000 tons per year. 
Review the full press release Q Cells Solar Power Plant
"As Europe's largest solar park, this project is a clear proof of Q-Cells' performance ability", said Nedim Cen, CEO of Q-Cells SE.
Read more about Q Cells CIGS Thin Film solar panels
November 1, 2011
Purchase a Thermotec Solar Hot Water system  and receive a $200 Coles or Woolworths gift card from Thermotec to help with your Christmas shopping.

 Swapping to a solar hot water system means up to 80% of your hot water will be heated by the sun saving you money and significantly reducing your carbon footprint. This can be equivalent to taking a small car off the road for a year.
Simply purchase your new solar hot water system between 1st November and 31st December 2011 to receive this offer.
This offer is valid in conjunction with Superior Solar's customer discount of $300 valid until the end of November. 
Kick start 2012 early with a brand new solar hot water system today.
$200 gift card from Thermotec
$300 Superior Solar customer discount
Savings start from $300 per year on your energy bill
Download the Thermotec Solar Hot Water Redemption Form here to view full conditions.
Click here for full product information on the Thermotec solar hot water system
*Privacy Guaranteed, Unsubscribe Anytime.