New Conergy Inverter & Premium Package
September 22, 2011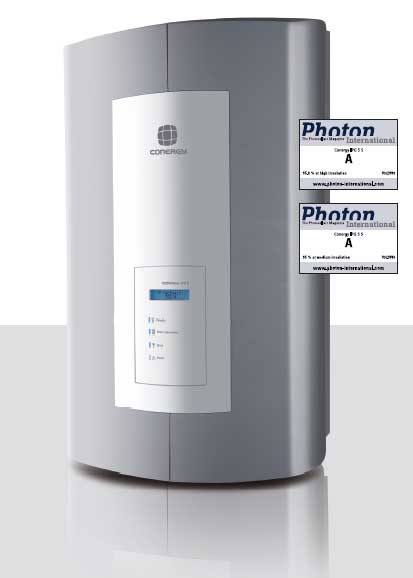 Conergy launches the latest technology in string inverters & offers a premium package with an unbeatable 10 year comprehensive warranty
The new Conergy inverters can adjust quickly to the changing radiation conditions by continuously adapting to the optimum working point. So-called MPP tracking (Maximum Power Point Tracking) is particularly important, as it allows optimum yields to be obtained as cloud conditions change. Conergy inverters currently offer the fastest MPP tracking on the market. The inverter is the brains behind your solar power system and hence has a significant impact on the efficiency of your complete system.
Benefits of Conergy IPG inverters
Maximum performance due to high efficiency levels
Rapid MPP tracking for the optimum working point
Easy installation
Attractive design
Convenient operation
Conergy IPG S series inverter
These intelligent inverters are designed for small to medium sized systems and have received two industry awards for their efficiency.

Conergy Complete Premuim Solar Power System: All from one source.
Conergy is the only solar company worldwide that produces all the necessary components for a premium solar installation in-house.  Because of this only Conergy can deliver the benefits that result from matching its system technology perfectly; optimising the interfaces between the individual components and reducing inefficiencies. The resulting high performance system has components all from a single source.
The system components are installed as a combined system, delivering higher yields and enables faster, simpler and more cost-effective assembly.
The Conergy Complete Premium Solar Power System includes

Conergy PowerPlus solar modules
Conergy mounting systems
Conergy IPG inverters
When you purchase the Conergy Complete Premium Solar Power System you will receive a 10 year comprehensive warranty giving you absolute peace of mind with your investment.


Did you know that the current Australian Standard requires all new hot water systems to deliver water at a maximum of 50 degrees to Bathrooms?
Often people comment that after having a new hot water system installed, whether it be Solar, Gas, Electric or a Heat Pump, that it doesn't appear to be quite as hot as their old system. The reason for this is that a few years ago the Australian Standard was updated to state that all water delivered to bathrooms must not exceed 50 degrees. You may ask so why isn't it as hot in my kitchen? The reason for this is that all your hot water pipes are connected and it is quite difficult and expensive to isolate only the bathrooms to 50 degrees so the outlet of you new hot water system is restricted to 50 degrees by a tempering valve to all hot water outlets in your house.
So is this a problem? Not at all, the average person will not be able to hold their hand under 50 degree water, if you can't hold your hand under the hot tap once it is hot then the temperature is definitely hot enough. If you are concerned before buying a new hot water system try mixing hot and cold on your existing system with a thermometer to 50 degrees and see what you think.
Your home will be safer as the risk of people, young or old receiving serious burns is significantly reduced.  
*Privacy Guaranteed, Unsubscribe Anytime.